Tesla Model 3 Chassis Solution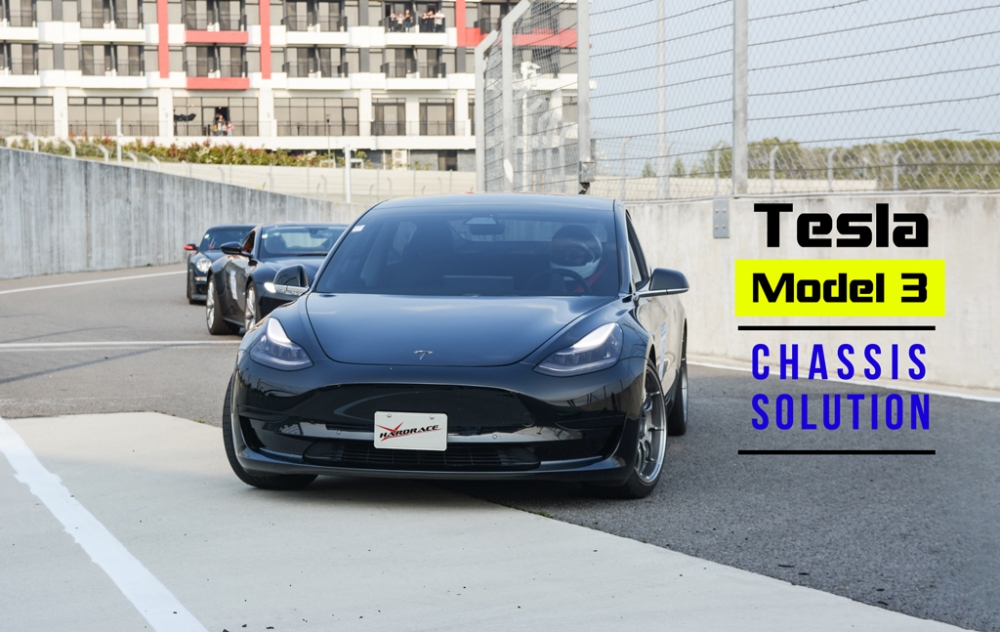 Model 3 is the entry-level car of the world's best selling EV company Tesla. With much more reasonable prices than the previous Model S/X, it promised to be more accessible for the masses. Under the body hides a sporty chassis, the front and rear multi-link suspension does offer great handling performance. On the exterior, it's a mid-sized fastback that comes with distinctive, subdued body styling along with full LED lighting. The minimalist design means plenty of room are left for customization and upgrades.
2 different drivetrain layouts are offered for Model 3: RWD (Single motor) & AWD (Dual motor). They share most of the suspension components only except coilovers and sway bars settings.
Plastic reinforced stamped steel construction is used for front upper arms. The rear end comes with conventional 5-link suspenison and coil and shock seperated design.
Surprisingly, RWD (single motor) models receives front sway bars only and does not have the rear one, therefore resulting in more unstable rear end reactions than the AWD (Dual motor) cars.
Weight however has always been an issue for most electric cars. Even with that much torque on Model 3, will still put large effect on ride and handling carring the extra weight of battaries. Suspension loads and tyre wears in this circumstance become harsher as well. Also, since the characteristic of an EV motor is totally different from conventional combustion engines, Electric cars will behave totally differently on power delivery and dynamics.
Reinforced Sway Bar
Featuring forged Cr-Mo alloy steel construction. Heat treated for superior hardness and tensile strength. The equipped bushings and clamps with premium materials are specifically designed for each items to ensure precise fitment. All these accessories are made by Hardrace own factories and available seperately for maintainance, too.
Adjustable Sway Bar End-links
We offer different types and length of sway bars for comprehensive applications.
By adjusting to desired length, they will suit various ride height settings and help pursue the most leverage on the sway bar, making suspension force effactively transfer to sway bar.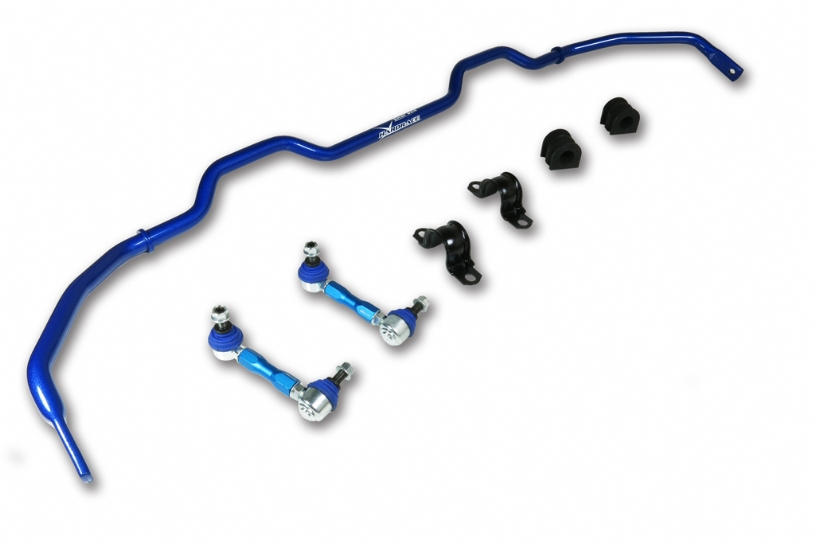 Adjustable Rear Arms
Adjustable arms are equipped with harden rubber bushings, they provide more precise and solid handling response over the factory components. The rear arms allows fine adjustments to the rear end alignment (Camber/Toe) setting to suit various driving conditions.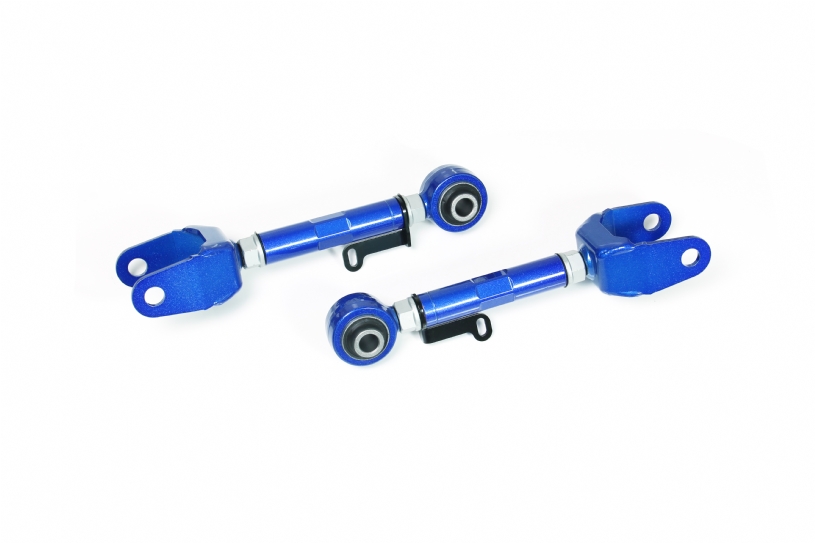 Adjustable Front Upper Arm / Camber Kit
The factory Model 3 upper arms are prone to failure quickly. Hardrace improve that with the adjustable upper arms, featuring precisely engineered high strength and lightweight construction along with adjustable machanism, it can either improve tyre contact patch for maximum cornering grip or get your car back to original alignment specs after lowering. With high quality harden rubber bushings and ball joints equipped, they also provide greater handling feel.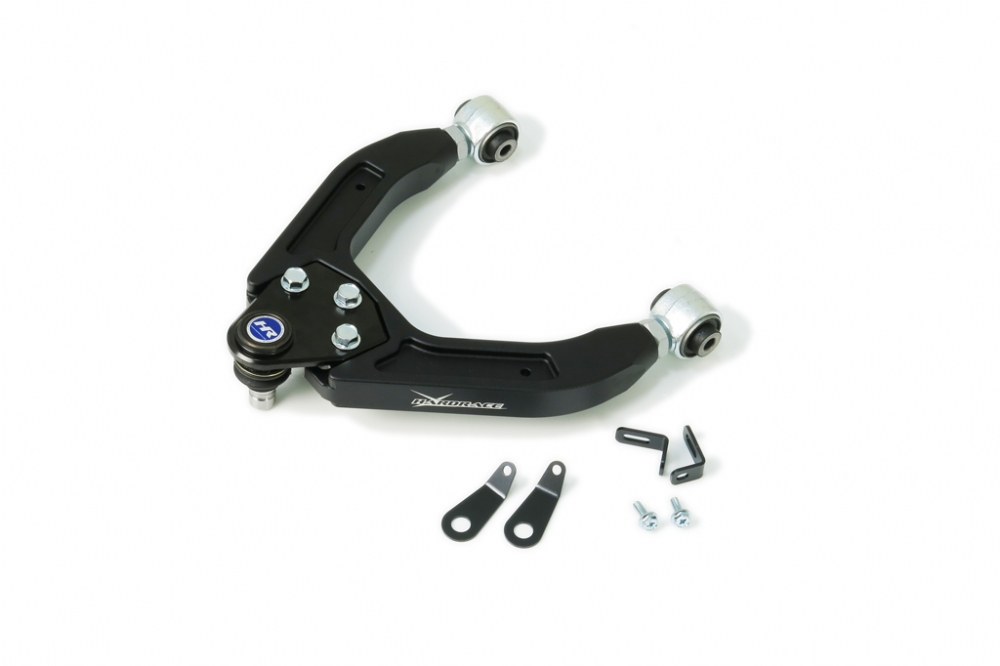 Brake Master Cylinder Stopper
Brake master cylinder stopper reduces flex at the firewall during heavy braking, making the brake pedal feel stiffer and more responsive

Comprehensive new products for Model 3 are available now:
Q0614 32mm Front Sway Bar
Q0615 22mm Rear Sway Bar
8793-300 Front Adjustable Stabilizer Link 300mm
8793-260 Front Adjustable Stabilizer Link 260mm
8659-140 Rear Adjustable Stabilizer Link 140mm
Q0604 Rear Camber Kit
Q0605 Rear Toe Kit
Q0612 Rear Adjustable Upper Front Arms
Q0613 Rear Adjustable Lower Front Arms
Q0603 Front Upper Camber Kit
Q0709 LHD Brake Master Cylinder Stopper
Thanks to instant torque output of electric motors, Model 3 can offer supercar-beating acceleration, making it incredibly fun to drive on race tracks. The only concerns would be the driving range, which is still far behind gas-powered cars. But we expect this will keep improving as thchnology advances.